Derm Acte
Regular price
42,00 €

195ml
Regular price
Sale price
42,00 €
Unit price
per
Start your collagen treatment in 13 days with this collagen-rich drink! A cocktail of 5 powerful active ingredients: Collagen, Hyaluronic Acid, Zinc, Vitamin E and Selenium to fight loss of firmness, wrinkles, oxidative stress and strengthen hair and nails.
Peach & Lemon flavor.
Free delivery
from 60€ of purchase

5 samples offered
with each order

1€ = 1 point
-20% from 200 points
Description

What if your drink became your new beauty gesture?
Collagen is the protein that supports our epidermis and whose synthesis naturally declines with age, UV rays and pollution. As a result, the skin relaxes and wrinkles appear.
To heal your body from the inside, start a collagen cure in 13 days!

This collagen drink provides all the necessary supplements (Collagen, Hyaluronic Acid, Zinc, Vitamin E and Selenium) to regain firmer skin, balanced hair and healthy nails!

Peach & Lemon Flavor
Tips for use

13 day program:

Take 15 ml per day for 13 days, using a measuring cup. Shake well before use. Take pure or diluted in a glass of water. Can also be mixed with his hot or cold drink.
Beauty result

Thanks to hydrolyzed Marine Collagen and Hyaluronic Acid, this drink improves the texture and elasticity of the skin. The skin regains suppleness, firmness, vitality and wrinkles and fine lines fade. Enriched with Zinc, it strengthens hair and nails, while protecting cells from oxidative stress thanks to Vitamin E and Selenium.
Nos actifs

Collagen •

Hyaluronic acid •

Vitamin E •

Zinc •

Selenium •

Les ingrédients (INCI)

water • marine collagen hydrolyzate (fish) (not of French origin) • fructose • citric acid • peach flavor (1.1%) • lemon flavor (0.4%) • preservatives • potassium sorbate • sodium benzoate • hyaluronic acid • zinc sulphate • vitamin E • selenium yeast • sweetener: sucralose
View full details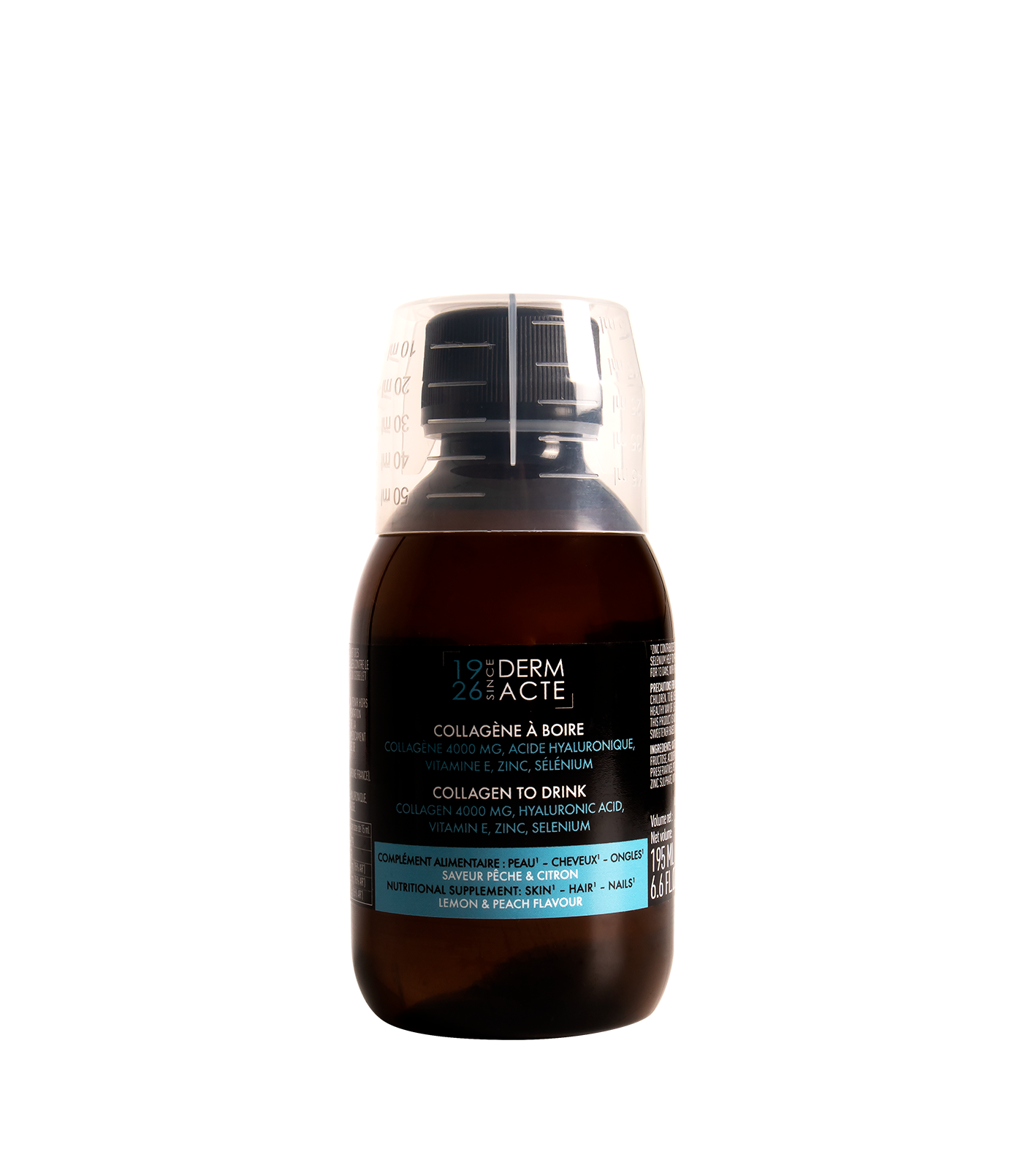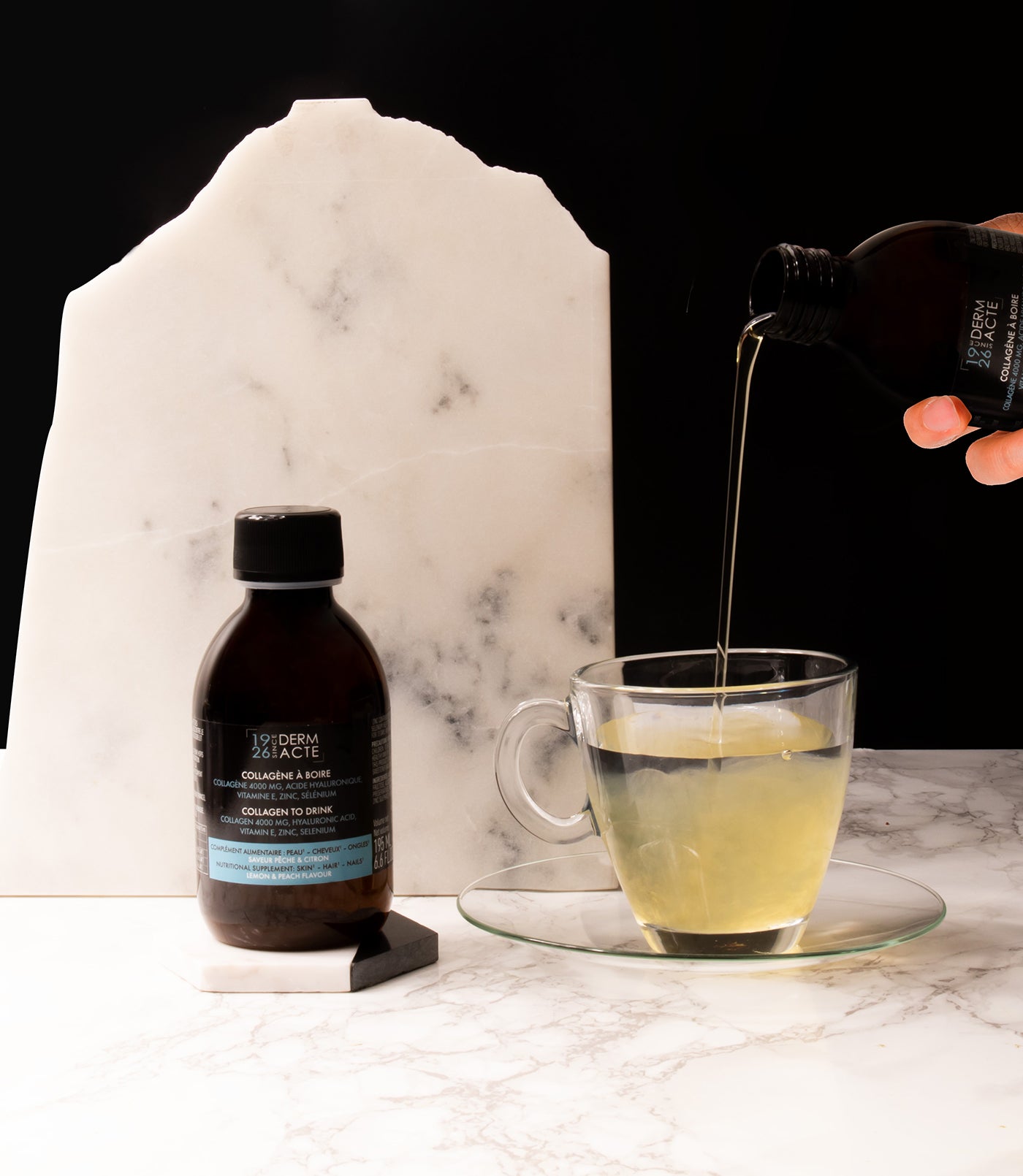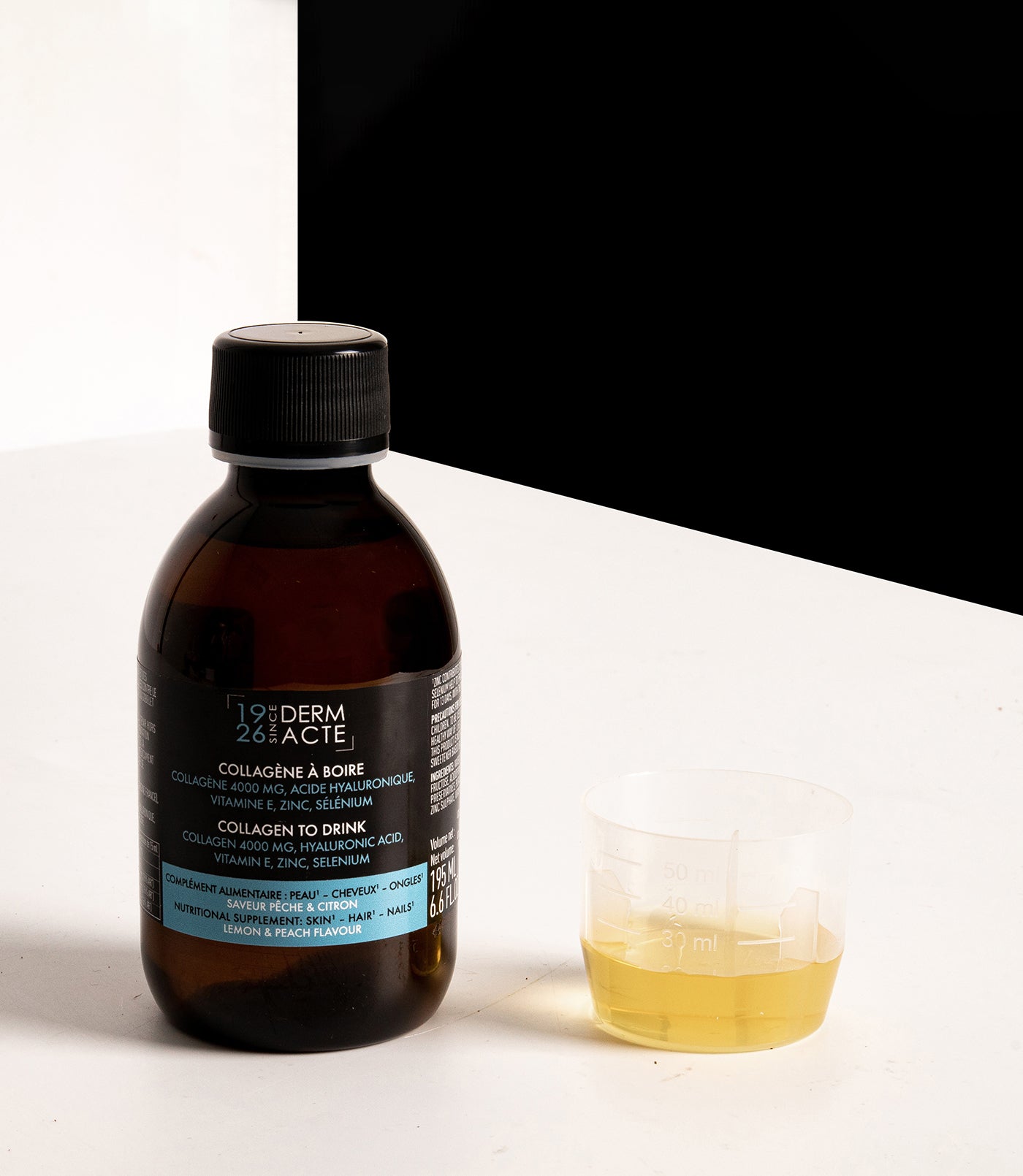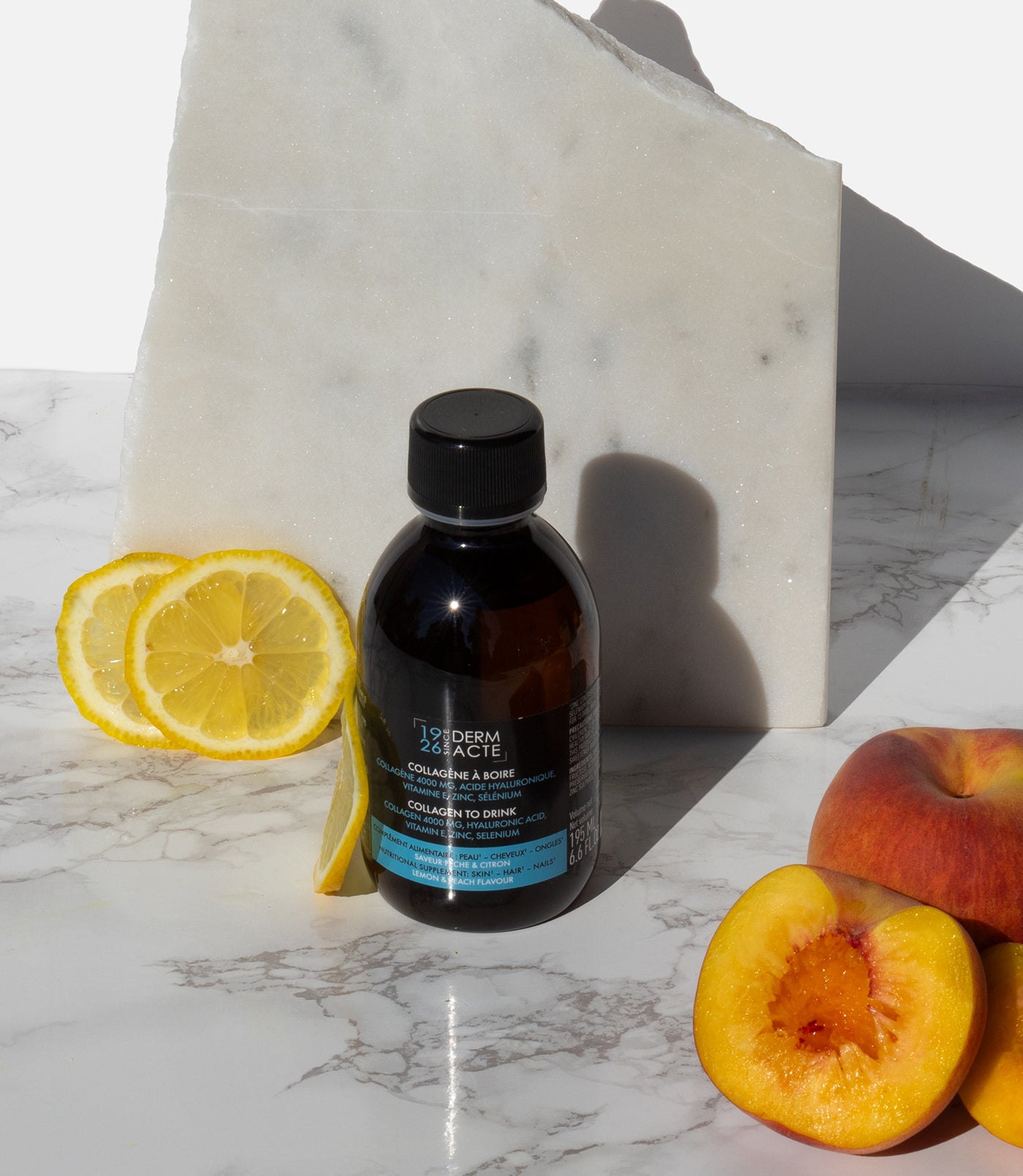 Science for your beauty
R&D laboratory
clean beauty

containing
100% recyclable
C est peut-être un bon produit, mais aucun bienfait sur moi…
conseil
Bonjour je viens de commencer le collagène à boire est ce que je peut en prendre toute l'année
merci
Bonjour,
Nous conseillons une cure de collagène de 13 jours à renouveler tous les 3 mois si vous en ressentez le besoin. Pour plus d'efficacité, la cure peut être doublée c'est-à-dire une cure de 26 jours chaque trimestre.
Pour plus d'informations, n'hésitez pas à nous contacter par mail : serviceclient@academiebeaute.com
L'équipe Académie
conseil
J'aimerais savoir à quel rythme je peux refaire la cure
ampoules et boisson collagène;
Bonjour,
La réponse est variable selon la situation de chaque femme. Il est difficile de suggérer une cure identique pour toutes mais nous recommandons de réaliser une cure de boisson au collagène en entretien de 13 jours tous les 3 mois. Si vous souhaitez une action plus intense la cure peut être doublée c'est-à-dire une cure de 26 jours chaque trimestre.
Concernant les ampoules au collagène, vous pouvez l'effectuer tous les 3 mois pour obtenir les meilleurs résultats. N'hésitez pas à nous écrire via serviceclient@academiebeaute.com si vous avez d'autres questions.
L'équipe Académie